Navigating the dark web for beginners can be difficult because you may not know which site to visit. It is important to be careful when opening websites to ensure you don't land on a suspicious platform.
The best way to keep yourself secure on this web is by visiting dark web sites that you already know about. So here are some good platforms that you can open on the dark net.
The Best Dark Web Sites Serving As Directories
The Hidden Wiki
The Hidden Wiki is one of the best dark web sites you can open because of its high reliability. It will offer you a list of onion URLs that you can click on to reach new sites. If you're looking for a dark web marketplace or comics library, The Hidden Wiki can help you reach it easily.
This directory may have suspicious links, too, but the site is regularly updated. So, fake and outdated platforms may be removed soon. You can also edit links yourself if you have come across a bad link.
Informational articles are also present on The Hidden Wiki to help beginners navigate the dark web.
Dark.Fail
Dark.Fail is a modified directory that allows you to see the uptime of various dark web sites. You can see which onion URL is active through the platform. This means you will not have to open every link to understand whether it is working or not.
The site allows you to access correct and verified URLs. However, the database of this directory is limited. Currently, Dark.Fail is monitoring about 50 dark web sites.
You can also email the site's admins to suggest new postings if you want a reliable link to be published.
Daniel
Daniel is a well-developed dark net platform that allows you to view various sites. It has more than 7,000 classified onion URLs to make your dark net experience safer. Many of these links are also reliable, so you can use them to avoid different scams.
The best part about the directory is that it has a check function to see a site's status. This will tell you whether the platform is currently running or down. You can save time by checking the status instead of opening a page directly.
Visitable Search Engine Dark Web Sites
Ahmia
Ahmia is a famous dark net search engine that allows you to search for platforms on the web. The best thing is that it does not allow abusive material on the search engine. You can visit the blacklist section of the site to see which links have been marked unsafe.
If you encounter a bad URL on Ahmia's index you can report it as abuse material so that the admin can blacklist it. The platform also allows you to read news related to the Tor Project for easier dark net navigation.
However, you must be careful when searching for Ahmia. A duplicated version was recently created to lead users to scam sites. The search engine's official owner brought the news of fake Ahmia to light.
DuckDuckGo
DuckDuckGo may be the top search engine of the dark web that even the Tor Project recommends. It does not keep your data or history to ensure no one can track your dark net activity. The platform's dark index is wide to help you access various sites.
The best thing about DuckDuckGo is that it also has a surface web version. You can use this version to find sites on the clear web and learn how to use the search engine.
Meanwhile, the dark net version will only show you onion URLs for ease of use.
Good Dark Web Sites For File Sharing
SecureDrop
You may want to use the dark net for reporting a crime or sharing a scoop with a journalist. Whatever the case, you will need a secure platform to share files and reports without revealing your identity. That is where SecureDrop comes into play.
The program allows you to share encrypted files anonymously with various journalism sites and government agencies. This open-source service has a surface website to help you navigate the platform easily.
It will also offer you instructions on how you can use the program for the dark net. So you will not have to worry about navigating the platform blindly.
Keybase
Keybase is a secure program to share files or chat with private users. You will have to create a PGP key to use the platform. If you already have such a key, you can also upload it on the app to use it easily.
The platform will allow you to connect your profile with your social media handles such as Twitter and GitHub once your key is created. This site also has a surface web version to guide you better.
You can scroll to the bottom of the surface website to find the updated onion link for Keybase.
Dark Web Sites For Mailing
Mail2Tor
Emailing people is one of the secure ways to communicate with your colleagues, loved ones, and online vendors. It allows you to talk to relevant people without revealing your personal contact number. However, you may want more anonymity when emailing someone.
Mail2Tor is a hidden service on the dark net that will offer you the anonymity you need when emailing someone. The platform also does not store IP addresses, making government tracking difficult.
You can send and receive emails without revealing your personal information, such as name, contact number, private address, and more.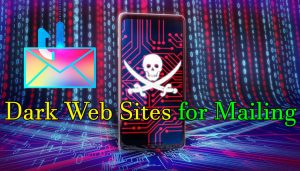 ProtonMail
ProtonMail is a famous service that many people use on the surface web. It allows you to send encrypted emails within a few seconds. If you want to keep your identity hidden when receiving or sending messages, using Proton's Tor version will be ideal for you.
The company offers all the services that it offers on the surface web on the dark net. You can open an account without disclosing your personal details. The best thing is that the dark net version will offer you better security.
You can also use the Tor version to bypass a regional block of ProtonMail in your country.
Elude
Elude is another reliable email client that can help you interact with people anonymously. There is no need to reveal any personal information when creating an account on this platform. All its services are also hidden, so you don't have to worry about government spying.
The best thing about Elude is that it is completely free, unlike many other dark web mailing services. You can share sensitive information in encrypted files while keeping your identity secure.
If you want to use the app for some time only, you can use the data purge option to delete your account when you no longer need it.
Visitable Journalism-Related Dark Web Sites
BBC Tor Mirror
Keeping yourself updated with news is important in this era due to various reasons. If you want to get international news without censorship restrictions, BBC Tor Mirror will be ideal for you. The platform uploads articles daily to inform you of what's happening in other parts of the world.
No activity logs are kept when you visit BBC Tor. Your identity will also be hidden so that government officials cannot monitor it. This is an excellent way to obtain news if your region is experiencing censorship restrictions.
The best thing is that this mirror version is handled by the official BBC to ensure you receive reliable news.
ProPublica
Investigative journalism intrigues many people because it can help you be more aware of different situations. ProPublica is an award-winning journalism site that is available on surface web and Tor.
The content of the Tor version is usually the same as the surface web except for additional sensitive articles. However, the key difference lies in the records of the site. If you access ProPublica through Tor your identity and IP address will be kept hidden.
So you can access the platform anonymously without revealing your web activity to anyone.
Dark Web Sites For Government Agencies
CIA
There are various ways to send sensitive tips to government agencies. You may send a USB in a courier to report crimes or conspiracies affecting national security. However, such methods can put your identity at risk.
Officials may be able to track your whereabouts using security cameras or by interrogating courier company workers. This is why you may search for secure online ways to send tips. That is where the CIA's Tor version comes in handy.
You can send anonymous tips to the CIA through the dark net with high anonymity and security. It will also help you stay safer, especially if the agency has moles.
Informational Dark Web Sites
Tor News
Tor News is a resource platform that is hosted by the official Tor Project. You can rely on it for informational updates about Tor. It will also offer you details on apps that are maintained by the company.
This site is a good way to enjoy privacy while learning more about the dark net. You can also use the information to defeat censorship restrictions and enjoy more online freedom.
The newsletter also works on a sign-up basis, so you can receive weekly or daily updates for high convenience.
Tor Metrics
Tor Metrics is another platform by the Tor Project that can help you understand how the company works. It will offer you additional insights into dark net privacy. You can also use the platform to find statistics for personal or school projects.
The platform will also offer you an estimate of how many dark sites are running on the web. This will give you a good idea of the number of hidden services that are present on the dark net.
Remember, only 2% of people use Tor for accessing the dark internet. Most people rely on informational resources such as Tor Metrics and News.
Dark Web Sites for Discussions
Dread
Reddit is a famous discussion forum on the surface web, but it does not offer you anonymity or high security. Anyone can find out your identity using your username or tracking you through your IP address. That is where Dread offers a sigh of relief.
It is a discussion platform similar to Reddit but with high security. You can talk to people without revealing your identity. IP addresses are also not tracked or logged into the system. This means your online privacy will be greater.
Remember, Dread is only available on the dark net, so you will not encounter surface web versions.
Hidden Answers
Hidden Answers is another discussion platform similar to Quora. You can ask questions and wait for other dark net users to answer you. It is also easy to join discussions and give your two cents on different topics.
The platform prioritizes anonymity and freedom of speech. This is why your identity will not be asked when joining the community. Hidden Answers also does not put any censorship restrictions on its users.
So you can talk about any topic without worrying about government interference.
Dark Web Sites For Cryptocurrency Transaction.
Wasabi Wallet
There may be many wallets on the dark net that allow you to perform crypto transactions, but Wasabi Wallet is the best. The best thing about the platform is that it is free. It also has an open-source design to allow other developers to contribute to the wallet's code.
The wallet also has a coinjoin feature that blends multiple crypto coins, such as Bitcoin and Ethereum, into one transaction. This prevents the government and other people from tracking you easily.
A non-custodial design also ensures that only you will have access to your keys. This offers greater protection from hackers and scammers.
Dark Web Sites For Beginners: Conclusion
These are the top 18 good dark net sites for beginners. Some of these programs may have surface web versions, but their dark net site can only be accessed through Tor.
You must ensure the URL of the site ends with ".onion" to ensure it is a dark link. Remember to keep your VPN and antivirus protection for greater safety on the dark net.